December for us at HiTT Academy Malta means chaos. But in a good way. We have lots of activities going on:: club competitions, national league matches and national ranking tournaments to prepare for, our yearly annual dinner and of course, the 30 hour marathon for charity.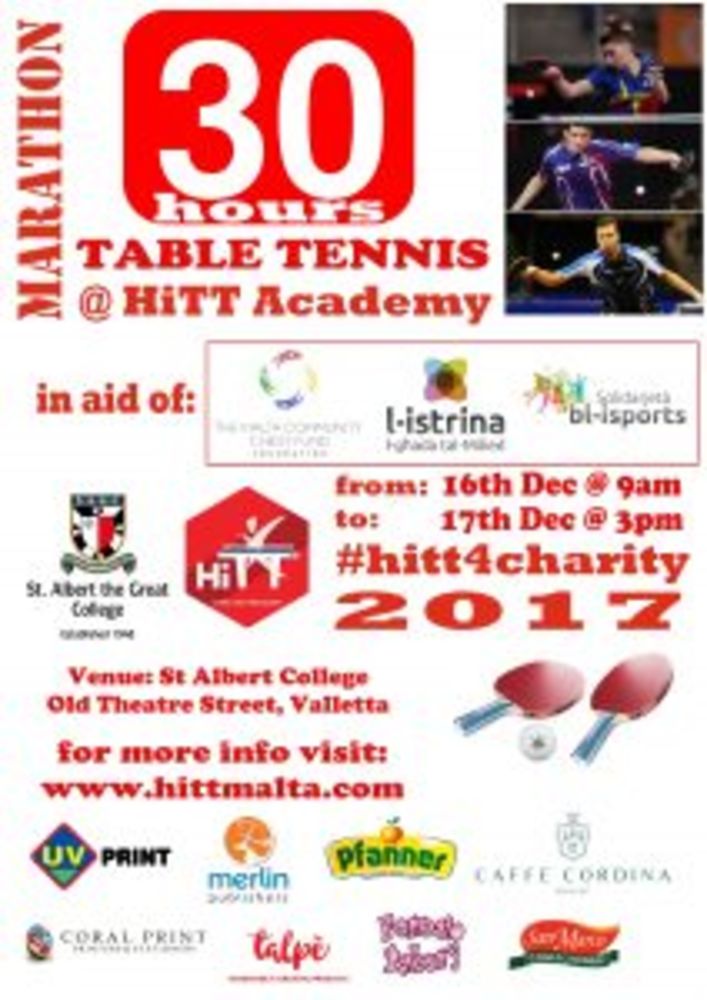 For the fourth consecutive year, we're going to lock ourselves in our table tennis academy and do what we love doing most. Play table tennis from morning till night and on through till the next day. It sounds stressful, and it is, but it's also great fun. All the visitors, students and helpers that flock to make this event possible give life to the activity, ensuring that there's at least one ball being hit from one side of the net to the other at all times. Anyone can pick up a racket and play–all we ask in return is a small donation towards this noble cause. All funds raised during the 30 hours go to the Malta Community Chest fund.
Great fun and friendly atmosphere
During the 30 hours of the marathon, our gym is transformed into a centre of activity buzzing with enthusiasm. Thanks to our volunteers and sponsors, we have a fully stocked coffee shop with all kinds of savoury snacks, healthy food, mouth watering homemade sweets, hot and cold drinks, and of course, the traditional HiTT Academy mulled wine™.
Some photos of last year's marathon:
Saturday night is usually our busiest time, when the veterans of the game turn up and show the young ones how it's done. Sunday mornings are also very busy, more so since every year we welcome the President of Malta and the Malta Community Chest Fund team for a brief visit.
All the money we collect during the event from the various activities we create for the evening, as well as money from food sales, a raffle with really nice prizes and all donations are then presented to the President on 26th December. Since the first edition of our marathon, we have donated a total of €5,800 to charity. Here's a breakdown of what we managed to collect each year:
2014 – €1,600

2015 – €2,200

2016 – €2,000
This year, we're determined to do a better event than previous years. As always, we'll put all our hearts in it.
Come join us this 16th and 17th December

The public is invited to drop by at all hours. There'll be something going on at all times, with a guarantee of fun. Activities include mini-games, a parent & player competition, coaching for new players, a Ping Pong session (yes that's right, Ping Pong and Table Tennis are not the same), and an opportunity to test your table tennis skills against Robby, our robot. But beware, he's quite merciless.
For a full list of activities we'll be having during the marathon, you can have a look at this schedule.
In a run-up to the main event that will take place between 9 am of Saturday 16th and 3 pm of Sunday 17th, we organised a couple of activities to kickstart our fundraising for charity. These included a Davis Cup style competition for our Academy players and an event held in Dingli, where with the help of the Dingli Primary School and Savio College we collected quite a nice sum. Another event will be held on 13th December and is a parent player competition in Davis Cup format.
Booking a table
Those wishing to play can book a table in advance by following this link. All donations from table bookings will go 100% towards the charity fund. Bookings can be made either via email to [email protected] or by sending an SMS on 79288297. The donations for table bookings are:
Option 1: €10 per player for 1 hour

Option 2: €15 per player for 2 hours

Option 3: €10 per table for 30 minutes
We're sure that together we can have fun while helping raise money that will go to those who need it most.
---
HiTT Academy is the largest table tennis club in Malta with over 100 registered members. We hold lessons for all age groups from 6 years and up, offering opportunities in local and international table tennis competitions, training camps and workshops. Learn more about us on https://hittmalta.mt/ or find us on Facebook.