Saturday 21st October 2023 – The Palace Hotel Sliema. At the annual Malta Table Tennis Association Presentation Night, medals and trophies were handed to athletes from all six Maltese table tennis academies. The awards covered some of the titles won during a number of national table tennis events played during Season 2022-2023.
Our club hoarded quite an impressive number of gold and silver medals, taking away a total of 32 awards from the available 66. This was thanks to months of hard work and non-stop training under the watchful eyes of our Head Coach Mario Genovese and his junior coaching team.
HiTT Academy – The Best Table Tennis Club in Malta
Recognition for achievements is part of every sport, even though different people may have different motivations and aims, and we understand that. For some, the goal is to better themselves, for others is to keep healthy and in shape. There are players who love the thrill of competition and thrive under pressure, while other players enjoy being part of a community.
However, the night at The Palace was aimed at the best performers in our sport. It was great sitting with our friends from the other academies and celebrating together. For our coaching team, having so many young players reach top positions in nearly every category was surely an important moment. Being the best table tennis club in Malta is especially meaningful to the coaches in fact, because they know they are doing a good job.
Photos from the event
The photos hereunder have been captured by Mr. Stephen Gatt and distributed by the Malta Olympic Committee.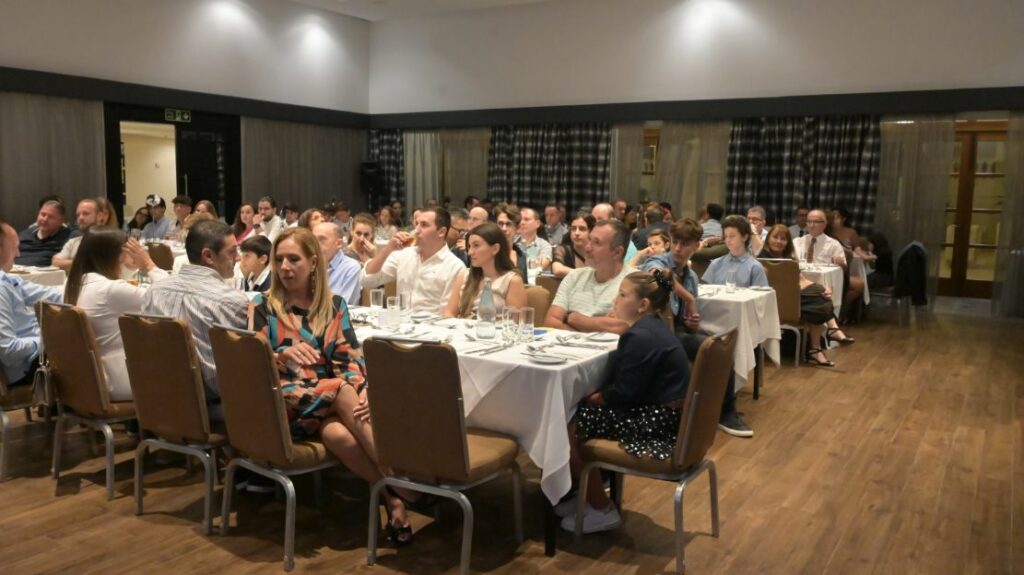 Here are the actual numbers that show why HiTT Academy deserves the title of Best Table Tennis Club in Malta!
National League Season 2022-2023
Division 1 Champions – HiTT Academy Tibhar (Gabriel Grixti, Isaac Grixti ,Conrad Puli)
Division 4 Champions – HITT Academy Sports Experience(Danny Scicluna/Dave Barbara Speranza/Jonathan Ytterholm/Florian Boureanu)
National Championships Season 2022-2023
Gold
Under 11 Boys Danny Scicluna
Under 11 Girls Julia Bonnici
Under 13 Girls Julia Bonnici
Under 15 Doubles Oli&Seb Farrrin-Thorne
Under 19 Boys Conrad Puli
Under 19 Doubles Conrad P/Luke Bonello
Under 19 Mixed Doubles Luke Bonello/Anthea Cutajar (shared with MITTC)
Under 21 boys Conrad Puli
Under 21 boys Doubles Conrad Puli/Luke Bonello
Under 21 Mixed Doubles Luke Bonello /Anthea Cutajar (shared with MITTC)
Mens Singles Gabriel Grixti
Ladies Doubles Sascha Genovese/Anthea Cutajar (shared with MITTC)
Veterans Mario Genovese
Silver
Under 13 Danny Scicluna/Julia Bonnici
Under 15 Girls Julia Bonnici
Under 19 Doubles Oli Farrin-Thorne /Neil Incorvaja (shared with MITTC)
Under 21 boys Luke Bonello
Under 21 boys Doubles Jeremy Cordina/Sebi Farrin-Thorne
Under 21 Mixed Doubles Conrad Puli/Kira Axiaq
Mens Doubles Gabriel / Isaac Grixti
Mixed Doubles Gabriel Grixti/Sascha Genovese
1st Ranking Tournament 2022-23
Gold
Silver
Under 11 Julia Bonnici
Under 15 Sebi Farrin-Thome
Seniors Conrad Puli
2nd Ranking Tournament 2022-23
Gold
Silver
Under 11 Julia Bonnici
Under 15 Oli Farrin-Throme
Seniors Conrad Puli
About HiTT Academy
HiTT Academy offers opportunities in local and international table tennis competitions, training camps and workshops. Our dedicated coaches offer professional advice to all levels of players from beginners to advanced. They work hard to keep themselves up to date with the latest techniques in order to offer the best table tennis training in Malta. Learn more about us on https://hittmalta.mt/ or find us on Facebook.