Hi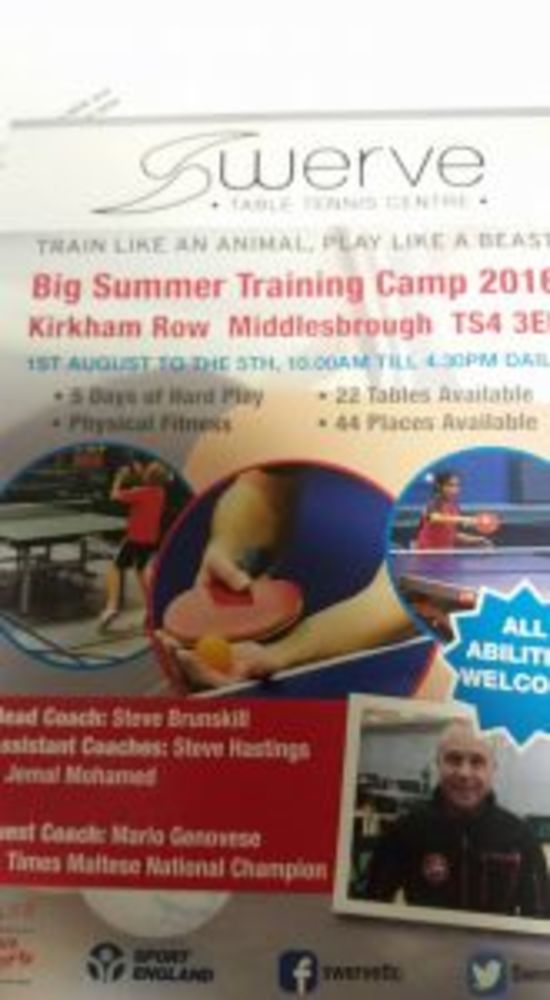 TT Academy's Head Coach Mario Genovese has been selected to join the coaching team at Swerve TTC for their Summer Training Camp 2015 held from the 1st to the 5th August.
5 of HiTT's top Mini Cadet and Cadet players have traveled to the UK for this camp run by Paul Warters and Steve Brunskill from Swerve and Steve Hastings from Scotland.
Camp review from Angus Poole
The Train Like an Animal Play like a Beast, Big summer training camp hosted by Swerve Table Tennis Club with guest coach, Mario Genovese provided high level professional table tennis coaching. The camp was good value for money priced at £150.00 for 5 days and included a lunch time meal. The camp started at 10.30am and finished around 5.30pm each day. Swerve offered accommodation for an additional cost.
Mario's communication is exceptional. He applies Sports Science to his coaching which I found particularly interesting. Mario has a wealth of experience competing at International level which was evidently shown throughout the course. He shared methods used by international players during competition. Mario excels at teaching Sports Science, especially the psychological aspect of the game. Mario shares his experiences and knowledge learned playing with and watching the worlds best players. I recommend Mario and the camp to anyone who wants to improve there game who is committed to training at a high intensity. Cheers