Player Ranking Lists are important to the development of our Academy. We take a ladder approach, enabling our students to work their way up our leaderboards as they improve.
HiTT Malta Table Tennis Academy Ranking Lists
Ranking lists in table tennis are essential tools for tracking the performance and progress of players within the sport. These lists assign numerical rankings to players based on their tournament results and match outcomes, considering factors like wins, losses, and the skill level of opponents. They serve as a benchmark for a player's current skill and standing within their peer group. Ranking lists are crucial because they provide players with a clear understanding of their strengths and weaknesses, helping them set goals for improvement. Additionally, they aid in the seeding process for tournaments, ensuring that players of similar skill levels compete against each other, which promotes fair competition and enhances player development by challenging individuals to consistently perform at their best. Overall, ranking lists are a vital component of the table tennis ecosystem, facilitating the growth and competitiveness of the sport.
Elite Ranking List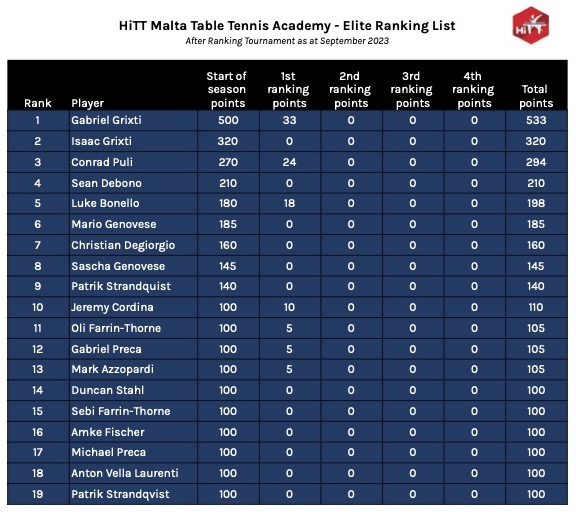 2 Star Ranking List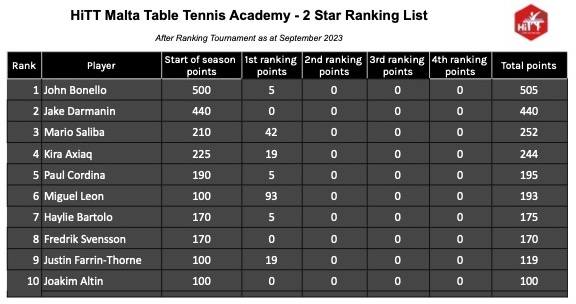 1 Star Ranking List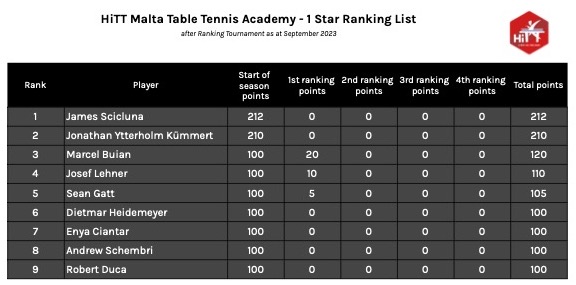 Mini Cadets Ranking List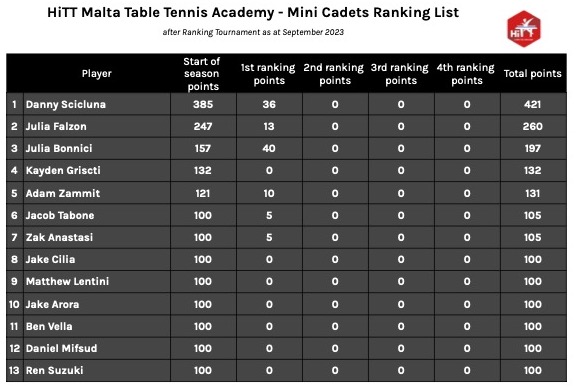 Ranking Lists Information
e need arise. New players will be placed into the appropriate categories at the discretion of the coaching team. The classification of players into HiTT Malta Table Tennis Academy ranking groups is done depending on:
Participation and performance of the player in Malta Junior Open and National Tournaments

Player seniority within the HiTT Malta Table Tennis Academy classes

Experience and participation of the player in club events

Demonstration of technical capabilities

Points obtained in HiTT Malta Table Tennis Academy ranking tournaments
The top 4 players in each category will be considered by the coaching committee for promotion to the upper category at the end of each term.
Foreigners and new students will be placed into their respective categories by the coaching committee.
Do you wish to play table tennis in Malta?
HiTT Malta Table Tennis Academy offers opportunities in local and international table tennis competitions, training camps and workshops. Our dedicated coaches offer professional advice to all levels of players from beginners to advanced. They work hard to keep themselves up to date with the latest techniques in order to offer the best table tennis training in Malta.
And if you are looking to buy table tennis equipment in Malta, then you've come to the right place. Maybe you would like to buy a table tennis table, or perhaps a new blade or rubbers. At HiTT Academy we stock Tibhar table tennis equipment for sale.
To learn more about us follow us on Facebook.