At the age of 45, table tennis legend Vladimir Samsonov announced the end of his international table tennis career. Known in China as the Tai Chi Master of table tennis for his excellent all-round style, Vladi is one of the most experienced and accomplished players in the history of modern table tennis.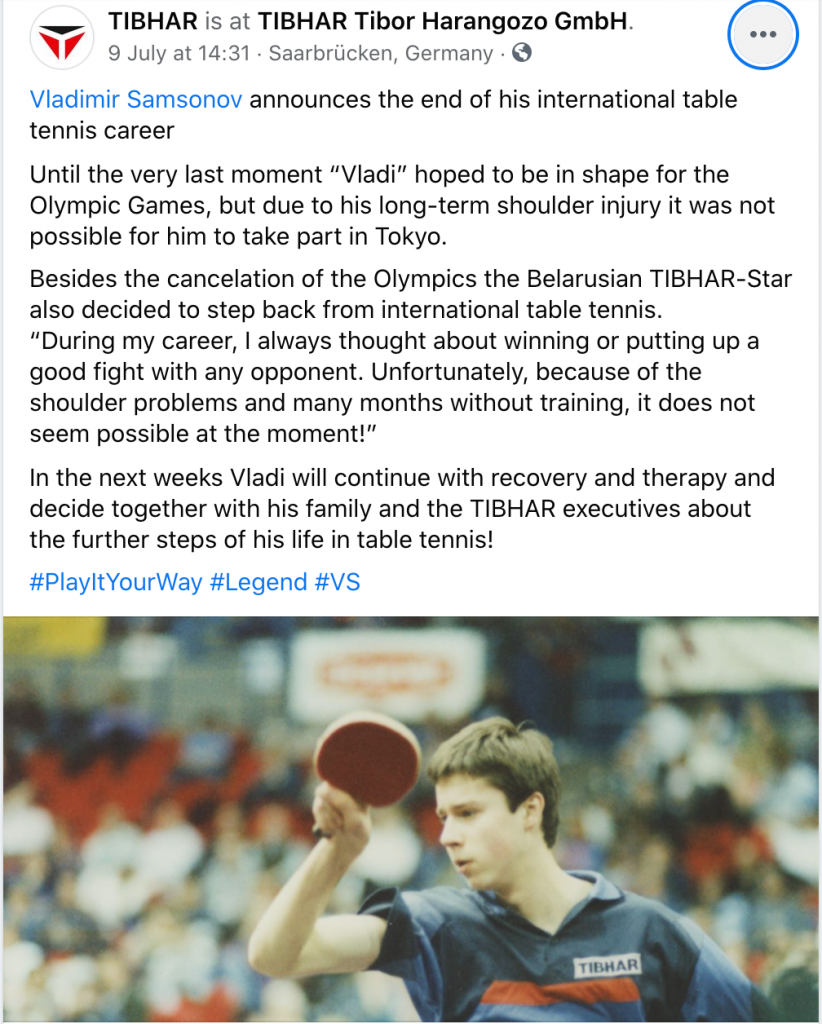 Vladimir Samsonov was born on April 17, 1976 in Belarus. He has competed at six consecutive Olympic Games between 1996 and 2016, placing fourth individually in 2000 and 2016. Due to a shoulder injury, he had to give up his participation in the upcoming 2020/21 Japanese Olympic Games.
Career Highlights of Vladimir Samsonov
Samsonov boasts 27 ITTF pro tour titles in a career spanning over three decades, managing to stay in the top-10 for 15 years.
At the time of his retirement, he holds the 28th place on the ITTF world ranking list – in 2001 he reached his highest ranking position at number 2. Samsonov holds 12 European Champions League titles – 3 with Borussia Düsseldorf (Germany), 5 with Charleroi (Belgium), and 4 with Fakel Orenburg (Russia).
Samsonov is also a three-time European champion (1998, 2003, 2005).
In 2005, he was awarded the International Olympic Committee (IOC) Fair Play award. In 2020, Vladimir Samsonov was elected vice-president of the European Table Tennis Union. 
Vladimir Samsonov's equipment:
Blade: Tibhar Samsonov Force Pro Black Edition 
Rubber forehand: Tibhar Evolution MX-S 
Rubber backhand: Tibhar Evolution MX-S