ITTF Level Two Course completed successfuly
Back in 2017, HiTT Academy Head Coach Mario Genovese completed the ITTF Level 2 Course with great success, getting the highest marks from all the Maltese table tennis coaches who sat for the exam.
The intense 5-day course was organised by the ITTF Development Programme and supported by Olympic Solidarity. The course was held in Valletta between Monday 30th October and Saturday 4th November. It was conducted by Aleksey Yefremov, one of Russia's leading table tennis coaches.
Our Coach best in class
A total of nine coaches attended the ITTF Level Two Course and included participants from Iceland, Spain and Malta. There were two sessions per day and these combined theory and practical sessions. Video presentations were included to address advanced techniques, physiology and psychology in table tennis training.
With the grades obtained, Mario is now qualified to sit for Level 3 ITTF Coaching Certification.
After the course was over, participants were required to do an additional 5 hours of supervised coaching and 50 hours of coaching practice each.
Following evaluation and approval of the coaching practice and lesson plans by Mr Yefremov, Mario Genovese was awarded full certification and listed on the ITTF Coaches Registry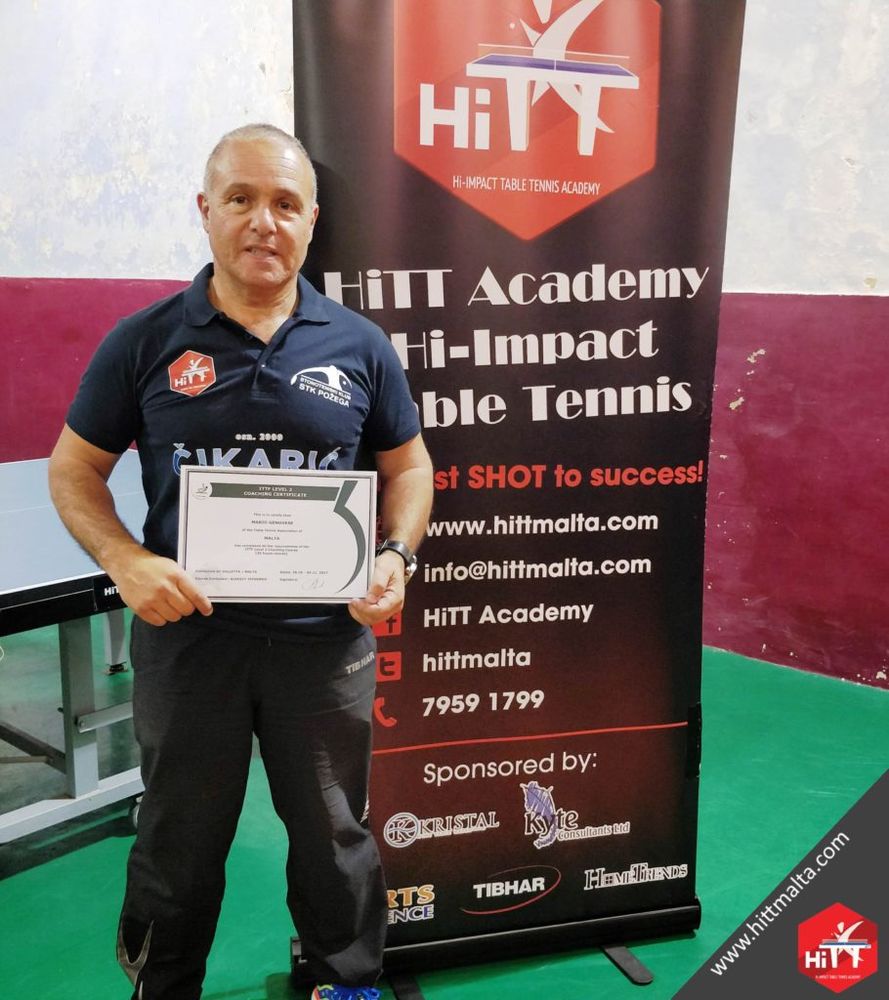 More than just coaching
HiTT Academy is a way of life, instilling true values of self-discipline, motivation and life skills whilst engaging in the fastest sport in the world. We aim to teach our players to increase their attention span, improve creativity, exploit their true selves and value their competitiveness.
Always watching over what is affecting the life of our players whether it's their educational performance or their social interaction and so much more.
"I would like to thank all HiTT Academy players for their determination to work hard. You are the driving force that keeps HiTT working to improve ourselves so that we can always offer you the top coaching possible. Thank you also to all parents for your constant support and for being part of the HiTT family."

Head Coach Mario Genovese
---
HiTT Academy is the largest table tennis club in Malta with over 100 registered members. We hold lessons for all age groups from 6 years and up, offering opportunities in local and international table tennis competitions, training camps and workshops. Learn more about us on https://hittmalta.mt/ or find us on Facebook.