In this year's Junior National Championships, the hard work of HiTT Academy over the last year paid off in spades as academy players claimed top spots in every category. The tournament was held over three days from the 11th to 13th April and consisted of singles and doubles events for under 11, 13,15,18 and 21 age categories as well as girls singles events in the under 11,13 and 18 categories. Under the supervision of coaches Mario Genovese and Katia Mifsud together with assistant coach Jordan Lahkfif, HiTT students combined to register top spots in the absolute majority of all events from Under 11, Under 13, Under 15, Under 18 and Under 21 both girls and boys categories.
The championships kicked off with the under-21 event on Friday 11th April, where HiTT players Andrew Gambina and Gabriel Grixti claimed the doubles title with a 3-2 comeback win over James Camilleri (also a HiTT player) and Ryan Tabone. Andrew Gambina carried his excellent form into the singles event where he reached second place, losing only by a narrow 3-2 scoreline in the final, with Andrea Portelli completing the top three.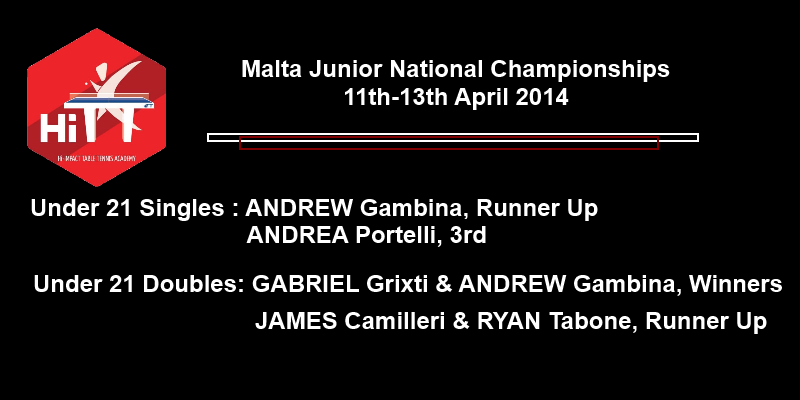 Saturday consisted of the u-13 and u-15 events. In the u-13 boys singles, Gabriel Grixti was once again a star performer with a semi-final win over brother Isaac who secured 3rd place, and a convincing 3-0 victory in the final. Both brothers teamed up in the doubles event to emerge as comfortable winners. In the u-15 event, Isaac and Gabriel once again performed brilliantly to earn the doubles title, and Gabriel came in second place with a 3-2 loss to Miguel Montebello. Liam Wells also came in second place in the plate event.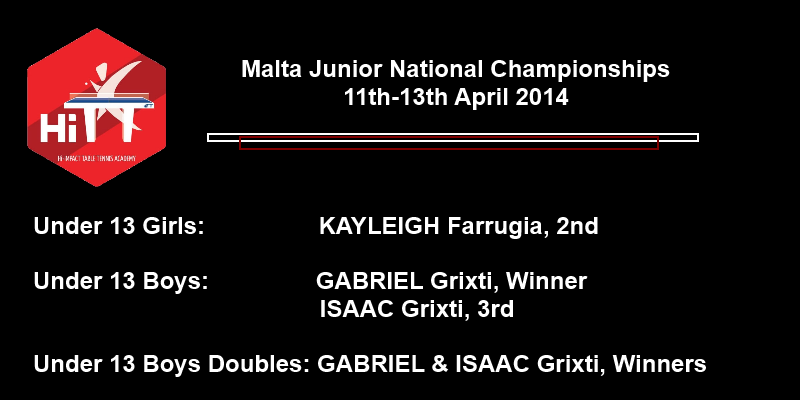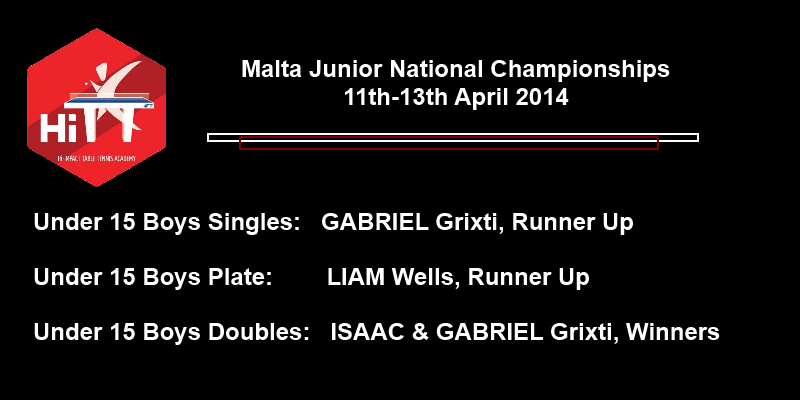 The last day held the u-11 and u-18 tournaments. HiTT Academy players again stood out with the u-18 doubles final being fought out between two different HiTT Academy Teams. James Camilleri and Adam Zouari became national champions in this event with a hard fought 3-2 win over Andrea Portelli and Gabriel Grixti. Three of those same players continued to perform brilliantly to reach the semi-finals in the singles event, with James Camilleri losing 3-1 in the final, while Adam Zouari and Andrea Portelli finished joint 3rd. In the plate event, Isaac Grixti claimed top spot with two more HiTT players, Isaac Darmanin and Justin Demanuele coming in 2nd and 3rd respectively.
In the girls u-18 event, Therese Genovese confidently achieved the top spot beating her opponents without dropping a set, with her sister Sascha clinching 3rd place. Fellow teammate Kayleigh Farrugia also succeeded in coming in 2nd in the u-13 event.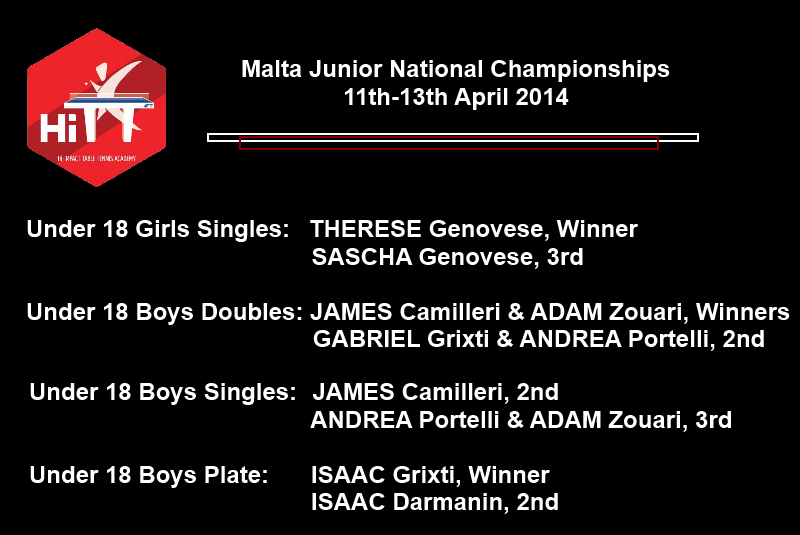 The recently formed HiTT cadets group has also been making great strides over the last year and their performances in the u-11 event after less than a year of training showed great promise. Rachel Mifsud who is only 8 years old achieved 2nd place in the u-11 Girls event in a brilliant final game showing her potential as a future table tennis champion. Matthew Bonavia took 3rd place in the u-11 boys event, with Paul Cordina and Jake Butters (from TTN) reaching 2nd place in the doubles final. The plate event was won by another HiTT cadet Davide Micallef who secured an excellent 3-0 win in the final.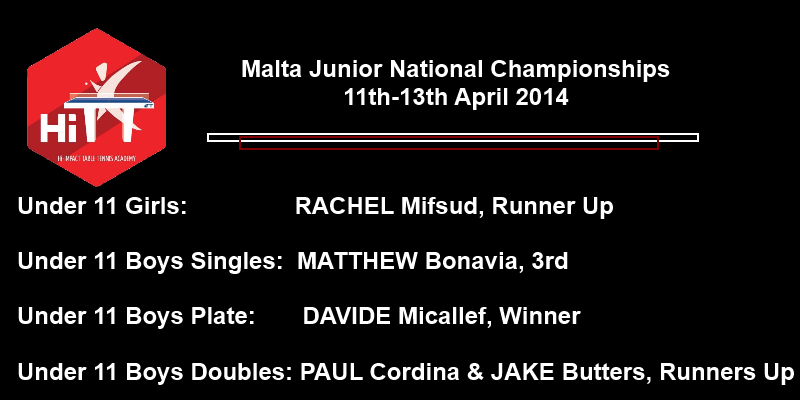 With these results, HiTT Academy continues to assert its position as the leading table tennis academy in Malta.